Focus: Characterization tools
To give you the best of our coatings, we test our products with several characterizations tools.

Learn about all tools that we use to characterize our products on your surfaces.



AFM (=Atomic Force Microscope)

Tool with which we carry out local mapping (topography) of characteristic physical units of the sample.




SEM (=Scanning Electron Microscopy)
Enables imaging by using an electron beam on the surface of the samples. We dispose of a device of type TM3000 equipped with a 3D image reconstruction system which enables the study of large surface roughness.



Technology based on far field optical imaging. The Interferometer is used to measure coating thickness from nanometer to 10 microns.


Allow the observation of coated items with different types of lighting.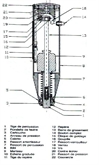 We are equipped with characterization tools that allow us to provide fast information on the hardness, thickness, adhesion, scratch and wear resistance of our coatings on any substrate.